multi-room

Keeping up with constantly advancing technology, which has become almost common-place in the high-tech homes and lifestyles of today, NuVo Technologies has created some truly award-winning whole-house audio products with Consumers in mind. By taking "simplicity" as a serious design parameter for audio components that integrate seamlessly into your home, NuVo systems afford unbelievable sound and unprecedented ease of access to multiple audio sources throughout your home!
NuVo Home Audio Systems can take your entire home environment to a whole new world. Add high fidelity speakers from TruAudio and "going home never sounded so good"!
To learn more about NuVo visit their website at: www.nuvotechnologies.com
---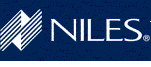 In January of 1978, company founder Ivan Niles Zuckerman opened Niles Audio Corporation for business. The fledgling company's first products were switching systems designed for use by audio retailers as a tool to help demonstrate speakers and amplifiers to potential customers. From those early switching systems, Niles has evolved into a solutions-based consumer electronics company that offers a comprehensive line of lifestyle electronics for custom-installed home-entertainment systems.
Niles has played a major role in the transformation of custom-installed whole-house audio systems into a thriving, highly professional industry; now in the 21st century Niles new multi-zone products offer unparalleled flexibility in creating customized whole-house audio systems.
Today the Niles line of more than 500 individual products includes a comprehensive array of devices for every aspect of whole-house distribution and integration of audio/video systems. Niles truly is a "total solutions" company, leading the Multi-Room industry and helping to define its future.
To learn more about Niles visit their website at: www.nilesaudio.com.com
---

Here at Fox View Network (FVN) we're constantly looking for ways to improve the audio experience in the home. In 2002, SONOS set out with a single goal - to reinvent home audio for the digital age by filling every home with music and making listening to that music a truly valued and emotional experience once again! With new products, new software and continually investing in ways enabling Customers to hear the songs they love, or discover new music, SONOS is making it easy for everybody to listen to music in every room of their home with the highest sound quality available.
All over the world - in more than 60 countries, in seven languages, through thousands of retailers SONOS like Fox View Network (FVN) is "changing the way people listen to music - one home at a time."
To learn more about SONOS visit their website at: www.sonos.com
---

TruAudio is not your ordinary Speaker Manufacturer. After spending years in the custom audio/video installation industry they were able to experience first hand what consumers expected from an architectural speaker. Thus, with that knowledge and expertise TruAudio now manufactures some of the best Architectural Speakers on the market today! TruAudio speakers perform like quality "high-end" free-standing cabinet type speakers but install "flush" into your standard wall or ceiling. TruAudio speakers will perform beyond all your expectations; plus, all their Architectural Speakers come with a LIFETIME Warranty!
TruAudio Architectural Speakers not only install "flush" into your ceiling or wall, the "grilles" can be painted allowing them to be virtually invisible, "seamlessly" blending into any room décor. They include high quality crossovers and gold binding posts with woofers that are custom designed for "free air use". Enhance your new or existing audio and/or Home Theater system with TruAudio speakers!
To learn more about TruAudio visit their website at: www.truaudio.com



CP-8


CP-8

♦ Two-way, In-ceiling design
♦ 8&quot polypropylene woofer
♦ 1" silk soft-dome tweeter
♦ 50 - 20kHz frequency response
♦ 5-100 Watts power handling , 8 Ω
♦ Dog ear mounting
(Optional rough-in ring)
GPW-8


GPW-8

♦ Two-way, all white, In-wall design
♦ Newly designed Wave Guide
♦ 8" injected polypropylene woofer,
dual layer voice coil
♦ 1" silk soft-dome tweeter
♦ 40 - 20kHz frequency response
♦ 5-125 Watts power handling
♦ EQ adjustments
♦ Ghost Style, Frameless White Grill
♦ Finish Dimensions: 14 5/8" x 9¼"
♦ Dog ear mounting
(Optional rough-in ring)
(Optional back box)
GP-6


GP-6

♦ "Ghost" series 2-way,
In-ceiling speaker design
♦ Equalization adjustments
♦ 6½" white polypropylene woofer
♦ 1" silk dome, swivel tweeter
♦ Power: 5 - 70 watts , 8 Ω
♦ 65 - 20kHz frequency response
♦ Sensitivity: 91 dB
♦ Frameless magnetic grill
easily disappears into the
installation environment
♦ Grill Type: Frameless steel
♦ Finish Dimensions: 9" dia. , 4" deep
---

Induction Dynamics, founded in 1995 and sister company of MS Electronics, LLC introduces Solid|Drive which transforms walls, windows, tables - nearly any solid surface into a speaker. Using patent-pending technology high-quality, full-range sound is radiated omni-directionally at nearly all frequencies while still maintaining channel separation. Solid|Drive can be installed directly behind walls or ceilings for a truly hidden appearance - turning an entire wall or ceiling into a sound source. Thermally protected, highly efficient and extremely compact - now sound can be delivered to any room with no visible speakers or wiring!
Utilizing high-powered magnets audio signals are converted into powerful vibrations which are transferred into virtually any solid surface by direct contact; however, Solid|Drive has no moving parts, and is fabricated from special non-fatiguing materials! Ideal for home re-models or new-home construction, now you can put sound almost anywhere in your home without speakers!
To learn more about Solid|Drive products visit them on the Web at: www.soliddrive.com
---

A whole-house distributed audio system expands the aesthetics of your home beyond mere visuals to stimulate your auditory senses with a multi-tumbrel pallet of music. At Fox View Network (FVN), the daunting task of distributing sound to every room in your house is made easy with a well planned and executed structured wiring scheme, and these simple, no-compromise Audioplex volume controls (VC) and infrared (IR) targets, which instantly relay commands to equipment anywhere in your home, make it easy.
Match these exquiste volume controls and comprehensive infrared targets with the best in architectural speakers from TruAudio, and "decorate" your entire home with sound!
To learn more about Audioplex visit their website at: www.audioplex.com
---
---
--- Top of Page ---
---