design
Designing your audio/video and/or Home Theater system(s) doesn't have to be complicated and involved. At Fox View Network (FVN) we make it easy. Most people have something in mind even before they see us, our job is to take them to the next level, to turn those thoughts of what could be into incredible sights and sounds for their homes!
At Fox View Network (FVN) we take the simple elegance of form following function to help you design the Home Theater system of your dreams! With "high-end" technology at our disposal the design process is greatly simplified because "high-end" components have become more user friendly with built-in features that bring the best of the Theater experience home!
At Fox View Network (FVN) we like our customers to take a "hands on" approach to designing their perfect system. Again, it's all about you - after all it's your home. Naturally we can design your entire system from start to finish with our own experience and expertise, but remember - it's your home, we really just want to know what you want! It's our job then to provide you with the products you need to turn your personal design into reality.
Designing a perfect system is really nothing more than planning. Proper system configuration is usually a by-product of consultation(s), and the design process simply "falls out" along the way. The time involved in the design process is usually up to the customer, whether a few minutes or years, Fox View Network (FVN) assures you of 100% satisfaction!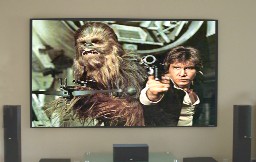 ⭡